David Anthony Williams:
World Class Toronto Portrait Photographer & Educator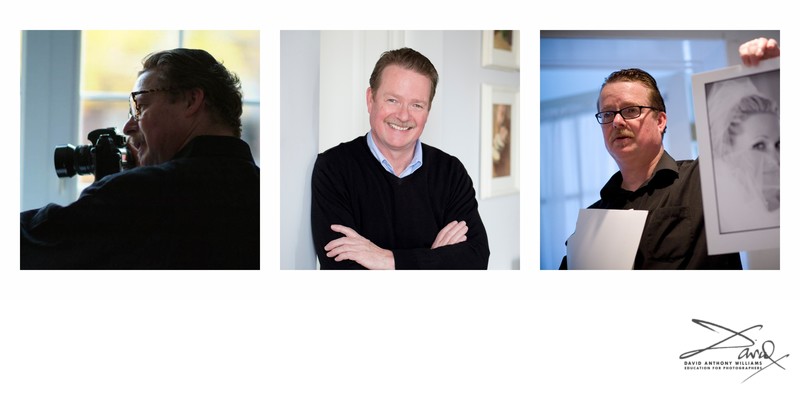 DAVID THE PHOTOGRAPHER
David's father began photography in 1928, and although much of his life was corporate, he was able to pass on much to his son. Whilst David appreciates very much the natural look in portraiture, he also embraces the dramatic - no more so than in his black & white portraits.

A portrait session with David often begins with what is called 'The Interview Portrait' where the subject is photographed during the course of a casual interaction designed to show more of the person's character. It is often after this that a series of 'asked for' portraits are made.

Many people believe that the only good photograph is one where the subject is unaware of being photographed. But so much of looking great in portraits has to do with being comfortable with the photographer, then excellent lighting and compositional skills.
David's considerable experience, clear vision and directions help elicit the most flattering and striking portraits.
DAVID THE EDUCATOR
David has spent much of the last 20 years teaching practicing professional photographers in Australia, New Zealand, the United States, the United Kingdom, Ireland, Canada, China, Vietnam, Malaysia, and India.
His workshops and private consulting are a must-have for photographers of varied experience levels looking to advance their technique.
In addition to David's annual Toronto three day "Almost Alone" workshop, he is available to travel worldwide to conduct workshops and private consulting in your hometown.
"If you photograph people for a living, the greatest gift you could give yourself is an Almost Alone seminar with David. Instantly your work will be better and your outlook will be brighter. The big payoff, however, will come later once you have practiced what you have learned and you begin to make more meaningful portraits and present them beautifully to your clients. You will feel like you have finally arrived. It doesn't get much better than that."
Storey Wilkins - Toronto
DAVID'S HISTORY IN THE INDUSTRY
David has 'been at it' for a good thirty years. He is an Australian-born second generation photographer.
He's gone through countless cameras and accessories, and now knows it's exactly what his Dad originally said it was: Light and expression. If we were adding a few more things - terms like style, elegance and solid technical excellence would be listed. He has lectured to professionals in Asia, New Zealand, Australia, UK, Ireland, Canada and the USA.
Competition results include over sixty awards for excellence in wedding and portrait photography, including the 2001 Australian Institute of Professional Photography Victorian Division Print Awards, and "Victorian Professional Photographer of the Year" which he repeated in 2003, and garnered accolades from New Zealand, Austria, America and England.
He has won the Grand Award for excellence in portraiture twice at the American Wedding Portrait Photographers International convention in Las Vegas and 'Grand Award – Wedding Digital' in 2003 – always from a considerable field of world-wide entries.
David has a history of over 25 years in state, national and international judging, in Australia, New Zealand, the UK, Canada and the USA. He panel-chairs the 'Premier Category' for first time entrants at WPPI to great acclaim from participants due to its total emphasis on education and helpful, positive feedback.
He was chosen by Kodak (Australasia) Pty. Ltd. as the Australian 'Mentor' for the testing, devising and shooting of the advertising, promotional and comparative photographs of Kodak Portra film followed by a series of Kodak sponsored lectures to professional photographers in the Philippines, Thailand, Vietnam and India.
In the last eight years, he worked with Fujifilm Australia on the professional testing and promotion of their pro-digital cameras, namely the S2, S3 and S5, and equally closely with Epson Prographics Australia, and remains a self-named 'enthusiastic Epson supporter' working with the 4880/3880/P800 series printers for all his work.
From 2010 to 2016, David began work with his long-time friend and colleague Storey Wilkins in her Toronto Wedding and Portrait Photography business. Storey is recognised as one of the top ten Canadian Wedding Photographers. David is also a past accredited member of the PPOC in six categories. Since his move to Toronto, he has won PPOC Wedding Album of the Year twice.
He is a Master of the Australian Institute of Professional Photography (II), a Fellow of the Royal Photographic Society, a Master of the WPPI Honours system, and a recipient of the Accolade Lifetime Achievement Award – also from WPPI.


PHOTOGRAPHIC COMPANIES THAT DAVID LOVES TO SUPPORT
| | |
| --- | --- |
| | Fantastic machines for making portraits |
| | Simply brilliant professional printers such as the P-800, producing quality images on gorgeous papers to last a lifetime. |
| | A wonderful album manufacturer for portrait and wedding books. Best customer service anywhere. |
| | Top people presenting a fantastic annual conference for professional portrait and wedding photographers from all over the world. I am there every year presenting and improving my skills with the world's best. |
| | A Professional Suite for Photographers to design, sell, proof and print all in one application. Express your artistic vision in this fast, fun and powerful ecosystem. |
Design Aesthetic
I delight in photographing the genuine character and individual mystique we all possess. Sometimes there are aspects to us we don't see, but our loved ones do.
Style? Some of my favourite portraits are presented in an elegant, timeless black and white in square format, a compositional style beloved by many classic fashion and editorial portrait photographers. Others are in classic colour, and regular formats.
Everyone responds to the camera differently. I love to create a fun atmosphere to the process. Sometimes, a short interview or dialogue can relax an individual and bring out the depth of their character.
These are not always portraits in which you will be smiling directly at the camera. You may be portrayed in a unique light, in a way that captures a beauty we do not always recognize in ourselves. I draw inspiration from many years of studying art, design and past Masters of photography.
Creating these types of editorial-style images requires a specific set-up and a private, quiet space to shoot where you can be yourselves and ideas can develop.
As you can imagine, these images are created for a specific look and composition and are not meant to be cropped in any way other than the format delivered. Images shot in this format can require custom framing to display your portraits in the most elegant, refined and beautiful way possible – which of course, we can help you with.
These aren't 'anybody's' portraits – they're your portraits.