Let David make beautiful prints of your personal digital or film images.
These prints are made from your iPhone, digital or film negatives and slides.
*The pricing detailed below is not available for portraits created by David.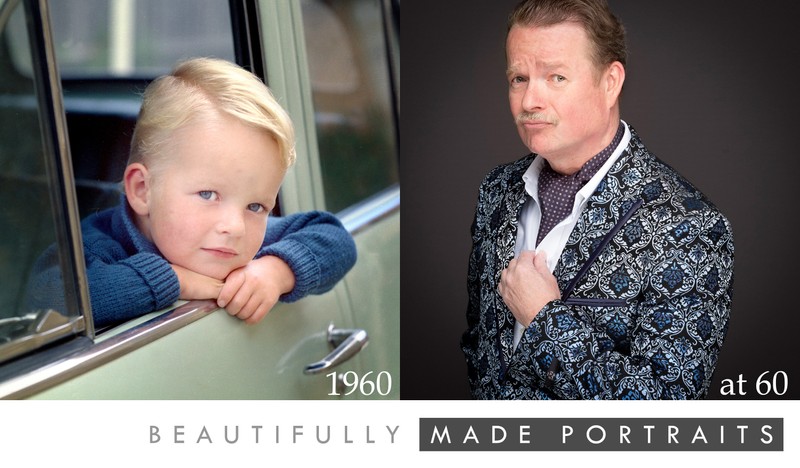 David photographed on a Graflex loaded with one of the first rolls of colour negative film available in Australia by his dad.
Why print?
We photograph more than ever before. Last year, more photographs were made than in the previous 150 years of the history of photography – and the least amount were printed. Our lives are stored as 0's and 1's in the digital world of our iphones, and our hard drives. And the rapid advance of technology means images stored on floppy drives, or even CD's are becoming increasing difficult to access.

It is easier for us to share the minutiae of our lives through digital systems, but so few images end up on our walls and on our tables where we can live with them every day. A dropped hard drive, a scratched CD, an immersed cellphone takes away our personal history daily.

And yet, all of us have mum or dad's 'shoebox' of family photographs, or their plastic-covered photo albums (where much of their history is slowly deteriorating) I am asking you to get your favourite images out of your iPhones and into prints. Current printing technology means properly printed and displayed images can last for 100's of years….just like so many of grandma's did.

David A Williams M.Photog. ll, FRPS has been printing both professional and amateur photographic images for 40 years. Your images will be printed on the finest quality materials - Legacy Platine (rich lustre) or Legacy Etching (matte) textured, for the maximum longevity available.

Every year, in winter and summer, we are blessed with time. I ask you to use that time to sort your personal family history. Pick a 100 images from each six months. If you find that difficult – I can help (for a moderate fee) you to sort.

Then comes printing for the true highlights of your collection. It is important to understand the prints I make are not cheap, fast low-quality prints from the box stores – these are the 'best' quality prints.

All prints include basic colour and density correction/minor area darkening or lightening/up to 5 minutes spotting. Professional-grade enhancement and retouching is available: add 50%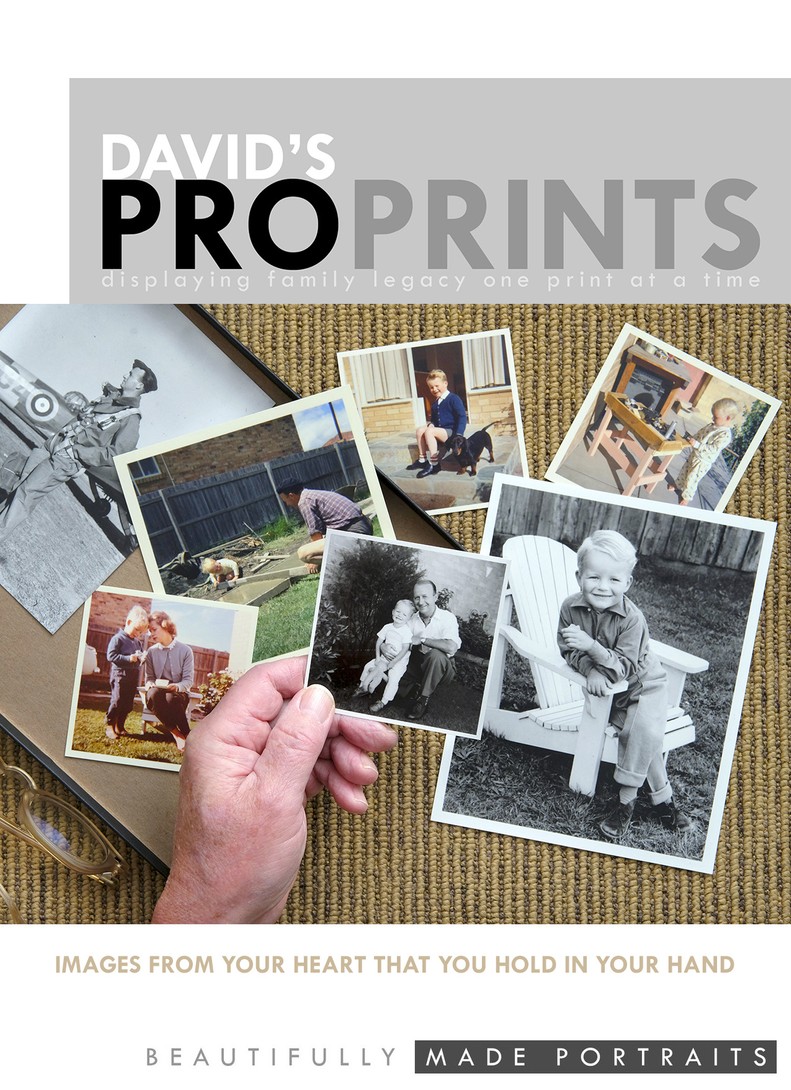 WHAT IS 'PROFESSIONAL PRINTING'?
All amateur systems are set up for what you might call 'the tolerable average' – and to be fair, most amateur printing is adequate for most people's needs. Where professional printing comes into it's own is when a consistency of colour, lightness or darkness (known as 'density') and longevity is important.

Amateur systems are set up like the 'auto' setting on your camera – meaning normal scenes often reproduce well – unusual scenes do not. This also applies to colour in photographs. The amateur machines look for 'normal'. What's normal? Johnny on his bike in the backyard on a sunny day with some sky and grass in it.

There are three main variables that determine print quality:

Colour balance. In amateur printing, the acceptable deviation from correct is much higher. Colour perception of an image alters the longer you look at it and the offending colour or density is corrected by our eyes.

This is why when we photograph a candle lit luncheon with existing light it is often excessively yellow – because our eyes have filtered more of the yellow light of the candle out. If we are able to look outside at the garden or street scene – it will initially appear too blue – because our eyes have not yet corrected to that scene.

Likewise, wearing an excess of one colour – like a red coat or dress may cause an amateur facility to make the skin tone cyan (a kind of blue)…the light in the shade of a tree is green. Our eyes filter out the excess – but it records in our photos – unless they are professionally printed.

The next example talks about 'density' or how dark or light an amateur system can make a photograph.

Here is an example of a print a bride had made at a well-known inexpensive amateur facility – and what we made for her. The difference is striking, mainly because the image is a difficult one to print on fully automated facilities.




Longevity of a photograph is an important subject. Conventional photographic printing using silver-halide and dye emulsions, together with quite poisonous chemicals were the norm right up until the turn of this 21st century. Longevity was the province of what was called 'archival' processing techniques and usually only the province of museums and art gallerys.

Most of us will see colourr photographs in our family collections that have faded to a dull red hue. This is because of the technology of the time, the chemistry involved, and the light sensitivity of the processes in the past. Just as the dyes in clothing or in curtains (as an example) fade – so does any product that involves images formed with dyes.

The advantages of dyes are short-lived – brightness and rich colours fade – and it's usually the yellow in an image that fades away first. You can see this in the example below – it is my mum and my sister shot in about 1956…the yellow has disappeared from the image. Fortunately, many modern scanning systems can anticipate this and have a setting for image restoration. All Epson products that I use have this.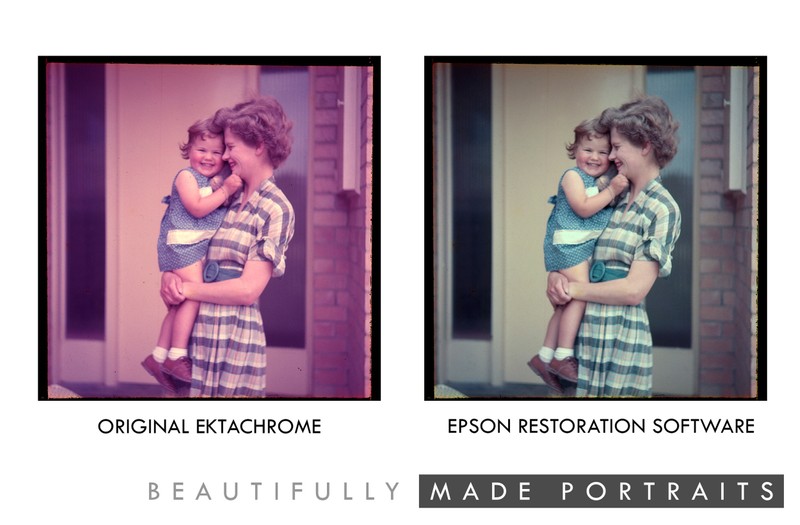 So, you may have (like I do for my office printing) a combination printer/scanner. These can be fabulous, BUT, they usually print with dyes - not pigments. What's the difference? Dyes will fade – often quickly (depending on the display conditions) – pigments much less so.

A good indicator is artists oil paints use pigments. These are designed to last for a very long time. Proper professional printers all use pigments. When pigments are matched with papers that are designed for maximum longevity, the life expectancy is over 150 years.

To put this into perspective, the longevity of a print made at an amateur facility with conventional photographic chemistry is about 12 years and this can be much less depending on storage (peel back & stick down albums are notorious for accelerating the fading of conventional photo prints)

So, there is obviously a price difference between the two types of service. It is important to understand the prints I make are not cheap, fast low-quality prints from the box stores – these are the 'best' quality prints.
DAVID'S PRO PRINTS PRICING

Printed on the finest quality materials - Legacy Platine (rich lustre) or Legacy Etching (matte) textured, for the maximum longevity available.

All prints include basic colour and density correction/minor area darkening or lightening/up to 5 minutes spotting. Professional-grade enhancement and retouching is available: add 50%

Minimum order for smaller prints: 3 6x4's or 2 5x7's

3 x 6x4 prints $30.00 + HST three prints
2 x 5x7 prints $30.00 + HST two prints
8x10 print $20.00 + HST single print
8x12 print $25.00 + HST single print

Per 11x14/10x14 $40.00 + HST single print
Per 12x16/12x18 $60.00 + HST single print

SCANNING
Includes basic colour and density/minor spot darkening or lightening/up to 5 minutes spotting.

Per print up to 8x10 $15 + HST per image
(larger images by quotation)

Per negative 35mm/slide $20 + HST per image
Per negative 35mm strip x 4 $50 + HST per 4 images (in one strip)
Per negative 35mm strip X 6 $60 + HST per 6 images (in one strip)

Per 120 negative $25 + HST per image
per 120 strip x 3 $60 + HST per 3 images (in one strip)

RETOUCHING
Charged by quotation in 15 minute increments. $25 per 15 minutes + HST

PAYMENT IS REQUIRED WITH INITIAL ORDER

SERVICE TIME:
3 – 5 days (not including postage of delivery). Specific times can be quoted on receipt of material.

DELIVERY:
Prints by normal postage $15 for up to 8x10 inch
Prints by normal postage $25 for up to 12x18 inch
(orders may be delivered at my discretion – postage charges still apply)
Express/courier by quotation.

Digital files or scans are returned via 'Wetransfer'
USB stick - on demand - $30.00 + HST + postage

T: 647 296 7750
E: david@davidanthonywilliams.com